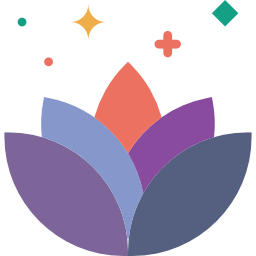 Fun and easy yoga for kids
Little people. Big benefits.
DISCOVER HOW YOGA CAN HELP YOUR CHILD TO REACH THEIR POTENTIAL.
A healthy kid is a happy kid!
In Aline Yoga classes, children use their imagination and yoga postures to grow in new ways. They develop motor and movement skills, and understand balance and relaxation through meditation and breath. Most of all, they discover self-confidence and have fun while doing it.

Yoga helps children to develop flexibility and strength not only physically, but in all aspects of their lives. Yoga classes for children level K-5 to grade 6 are most beneficial when kept to a regular schedule. Our packages are flexible and easily adapt to your curriculum.

Teenagers today are faced with many challenges. So few are equipped to deal with their increasing stress levels. Aline Yoga classes are designed to help adolescents recognize their full potential, learn techniques to manage stress and apply what they learn on the mat to everyday life.

Yoga is a fun and healthy activity to add to your camp's schedule. Children of all ages learn breathing and relaxation techniques through playful movements and music. Everyone can enjoy the benefits of yoga at their own rhythm or just wiggle their sillies out!
In our classes, children are animated and free-spirited as they make noises, act out stories, and pretend to be animals. By using nature and animal themed games, dance and song to stimulate the mind, the creative spirit and enhance health, children expand, explore and express their unique physical, emotional, mental and spiritual gifts. The children use their imagination and yoga postures to learn new vocabulary, develop motor and movement skills, and understand balance and relaxation through meditation and breath.
A portion of the class is devoted to discussing virtues, such as respect, friendliness, patience, compassion or practicing positive affirmations, changing negative thoughts into positive ones.
Length of classes are minimum one hour at a time, adapted to each level of learning. Generally, classes include a 45 minute yoga session, combined with other activities to suit each age group including affirmations and dialogue.
Clients include:
Kuper Academy

Peter Hall School

Parkdale Elementary School 

St. George's School of Montreal

The Study

Springdale Elementary School 

Sunshine Academy 

Académie Marie-Claire

Collège Beaubois
Learning the basics of yoga, such as how to use the breath, helps teens stay calm in stressful or difficult situations. Techniques learned in yoga can prepare students prior to a test, a game, or a presentation. Yoga also helps teenagers feel more centered, aware, and relaxed. Teens today are under a lot of stress. Homework, pressure to compete, endless activities, busy parents, competitive sports – it all adds up.
Classes include discussions around virtues such as kindness and compassion. We explore topics such as trust, confidence, self-discipline and joyfulness that allow participants to make healthier and happier choices in their life.
Length of classes are minimum one hour at a time, adapted to each group's needs. Generally, classes include a 45 minute yoga session, combined with other activities including meditation and self-esteem tools.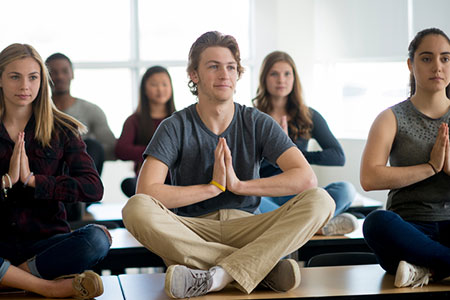 Clients include:
Kells Academy

Riverdale High School
Kids have LOTS of energy in the summertime! Yoga classes are a great way to take a break but to also entertain kids on a hot (or rainy) day. Aline Yoga sessions are beneficial for all age groups, teaching children to quiet the mind and prepare them for a stronger school year ahead. It's also just fun to stretch, pose, dance and chill out.
Length of classes are minimum one hour at a time (can be split into two groups for 30 minutes each), adapted to each camp's needs. Generally, classes include a yoga session combined with other activities including music and dance.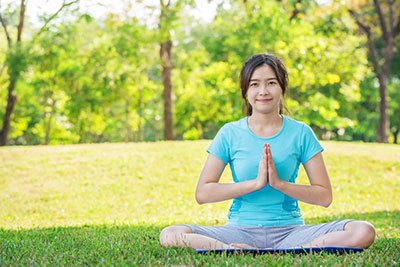 Clients include:
Camp Cosmos

Laurus Summer camp

Pierrefonds Day Camps
Daycare classes
Aline has been teaching yoga for six years, in dozens of daycares and schools across Montreal and surrounding areas. Your little one will love her gentle approach and enjoy learning every step of the way. Through proper breathing and postures, Yoga helps tame the mind, relieve mental and physical tension and restore harmony. Children of all ages can benefit from Aline's classes (and the caregivers enjoy it too!) 
Private sessions
Private sessions are available and provide an intimate level of learning without the pressures of a regular classroom/studio setting.
Yoga from the comfort of your own home
Geared for the client's individual level in building
muscle strength and stamina
Increase energy, reduce stress
Relax the mind through breathing techniques
Restore inner peace.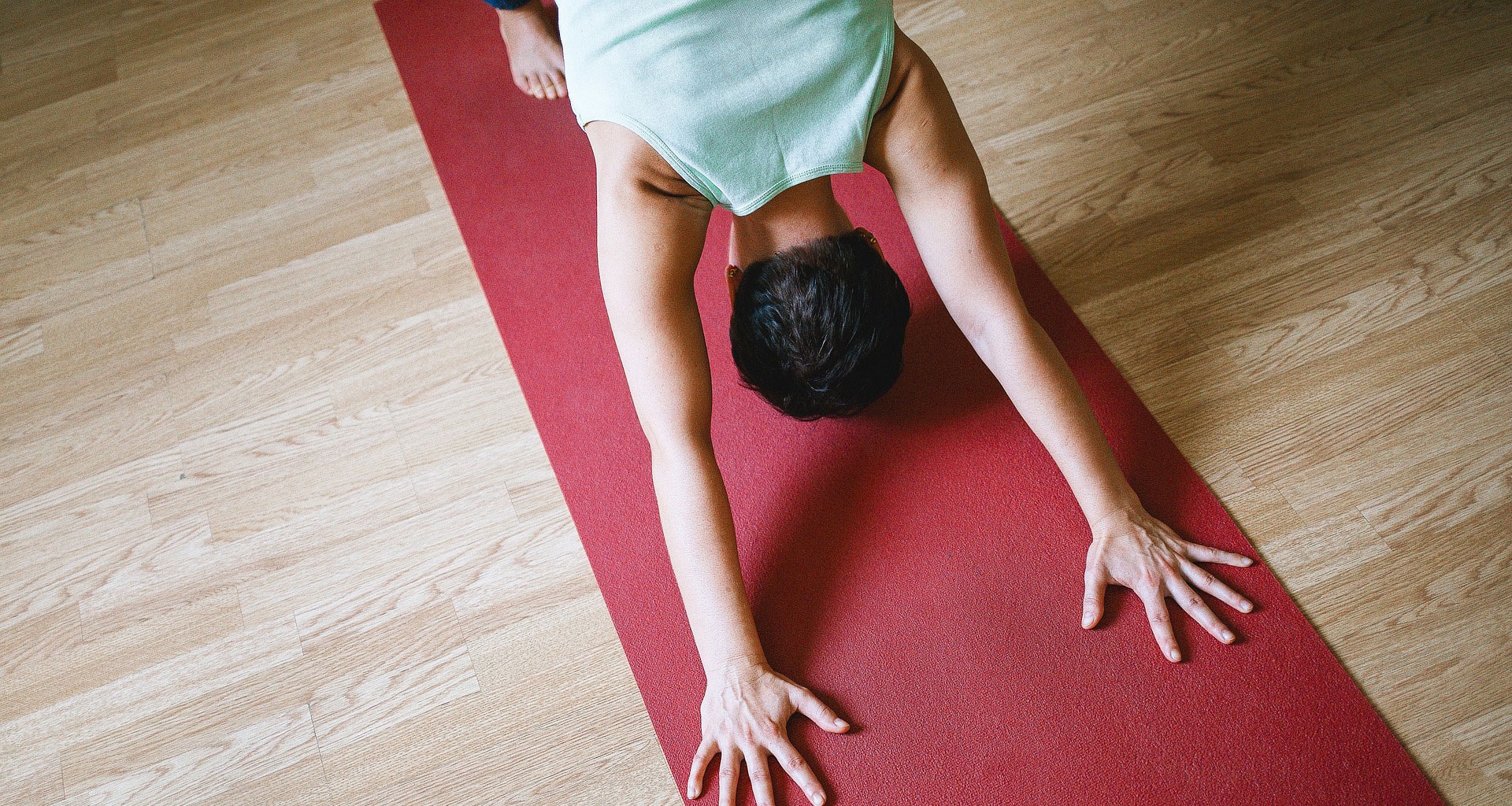 Clients include:
YM-YWCA
Dollard Civic Centre
Jewish General Hospital, Child Psychology

CPE Town of Mont-Royal

Garderie éducative Ange Gardien

Garderie Éducative Mini Pandas Inc.

Garderie LaSalle des petits

Garderie Les Deux Oursons Inc.

Garderie Nid de Namur

Garderie Nouveau Monde de Lachine

Garderie Peek-A-Boo

La Belle Academie

Ville de Dorval
A chronic sore back lead me to medicine and science to find answers for my pain. Although some things worked for a while, the pain would eventually slip back into my life. Just as I was getting to the point of accepting this way of life, I discovered a gift: Yoga. Regular Yoga practice rescued me from my long-standing discomfort.
Thanks to the wonderful method of Hatha Yoga, not only did I gain physical strength, toned and elongated my muscles, I have also gained emotional strength. Through breathing and the postures, Yoga has helped me cope with stress, remain calm, and give me the ability to pull through hectic days without becoming overwhelmed.
With my renewed energy for life, my passion for Yoga grew and led me to become a Certified Yoga Instructor at Yoga Bliss Studio, in Montreal, guided by my mentor Dr. Madan Bali.
Teaching has been incredibly rewarding. I'm proud to empower my students and share the experience of Yoga to improve the lives  of others on a physical, mental and spiritual level. Join me and make Yoga a regular part of your life today – it will be life changing.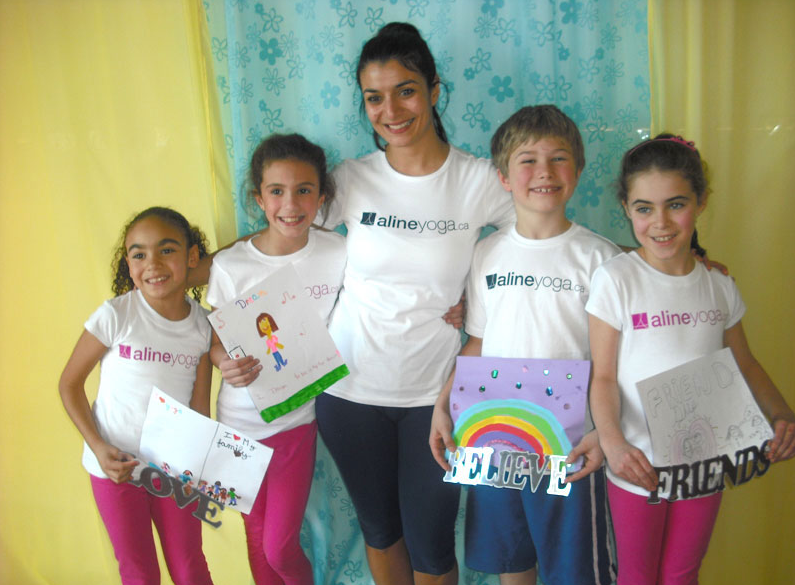 Aline's training includes:
Kidding Around Yoga
Certified Yoga Instructor for children, 2015
Toning-group fitness
YMCA certified group fitness Instructor, 2015
Omschooled
Certified Yoga Instructor for children, 2013
Seniors Fitness
YMCA certified group fitness Instructor, 2012
Little Lotus Yoga for Kids Teacher Training, Preteens and Teens
Certified Yoga Instructor for Children, 2012
Equilibrium Yoga Centre
Certified Prenatal Yoga Instructor, 2011
Lotus-Fit, Mansfield Athletic Club
Certified Yoga Instructor for Children, 2009
Certified Yoga Instructor
Yoga Bliss Studio, The Bali Method
Hatha Yoga and Vendata Philosophy, 2009
Stratford Career Institute
Certified Relaxation Therapist, 2008
and CPR Training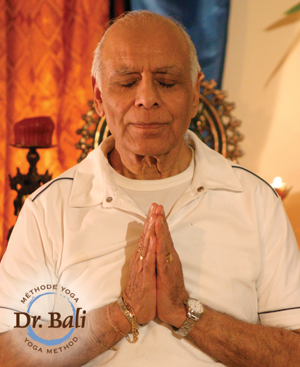 As a certified instructor from the
Yoga Bliss Studio
, Aline follows the
Dr. Bali Method
, which is based on the principle that the wisdom of the body is so well designed and equipped that it is self sufficient. It contains a complete pharmacy of its own. The body has the finest technology within and yoga provides a method to tap into its full potential for healing and wellness.
Dr. Bali has developed a unique method that combines yoga, asanas, pranayama, bandhas, kriyas and meditation to tap into the finest technology within. Getting in touch with the body's own self-referral feedback can help to reverse the damage caused by stress, unhealthy habits, poor diet and negative emotions.
This method helps spread joy, peace and bliss all while providing the physical of the benefits of yoga.
Thank you for guiding us through relaxation and meditation techniques. I always feel wonderfully relaxed and calm after our weekly sessions. Your gentle voice and kind nature bring a sense of serenity to every session. May life be good to you.
Gratefully, Ann Ridyard
I am an educator at the Learning Tree daycare in Dollard-des-Ormeaux and I have had the opportunity to watch our yoga teacher, Aline, work with children of varying ages. What I find most impressive about her approach is that it incorporates movement, song and educational elements so well. She keenly understands the developmental stages of the individual groups she is teaching and adapts her yoga program accordingly. She fully engages the children and makes each session tremendously fun. I would highly resommend her to anyone seeking a preschool yoga instructor.
How happy we were to find Aline Reizian! I teach at Peter Hall School, where we were looking for a volunteer Yoga instructor for some of our special students. Aline has done wonderful things in such a short time. The students really like her. I have also taken the great Yoga sessions Aline is offering after school for our staff.
Many thanks, Ian Segal
In the spring of this year, I underwent an emotional turmoil following the unexpected death of my dear husband. I felt completely numb, disconnected, in a fog, going through, the daily routine "robotically". I was sick at heart.
A friend suggested I register for a yoga/stretch class which I did. Following 12 classes with Aline I can say I am feeling more focused, more energized and when I am having a bad day I revert to the breathing and positions which calm me. I also utilize my time behind the wheel with the breathing exercises.
Yoga for me is definetely The Way to Serenity.
Congratulations to Aline Reizian Lily
Olivia Louisa Bonar, born march 29 2011, 8 lbs, 3 oz.
Thanks for your positive words! My yoga breathing got me through a long labour and delivery I also kept reaffirming positive affirmations like in class.I look forward to starting yoga again but according to my doctor my original 2 wk timeframe is too ambitious. Thanks for the classes they are inspirational. Karen Meyer
I had severe lower back pain during and after my pregnancy. I find AlineYoga is helping me deal with a lot of the pain and just deal with my daily life in general. I am much more flexible than I was just a month ago, I feel stronger and am actually excited to learn more and try to do more postures. Aline really goes at your own pace, she is very supportive and encouraging.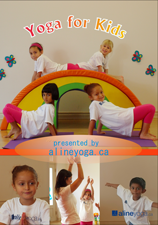 This fun and easy yoga DVD is for children ages 2-7 yrs, with over 25 exercises including a bonus feature. A portion of proceeds will be donated to unfpa.org – United Nations Population Fund.
"When you find peace within yourself, you become the kind of person who can live at peace with others."
~ Peace Pilgrim
GET IN TOUCH
We would love to hear from you should you have questions about our services or want to book yoga classes with us. Please allow up to 48 hours for response time, thank you!
[email protected]
(514) 825-8296
Follow us on Facebook!
[custom-facebook-feed]